What is the new normal for restaurants, bars, catering companies, and the overall service industry?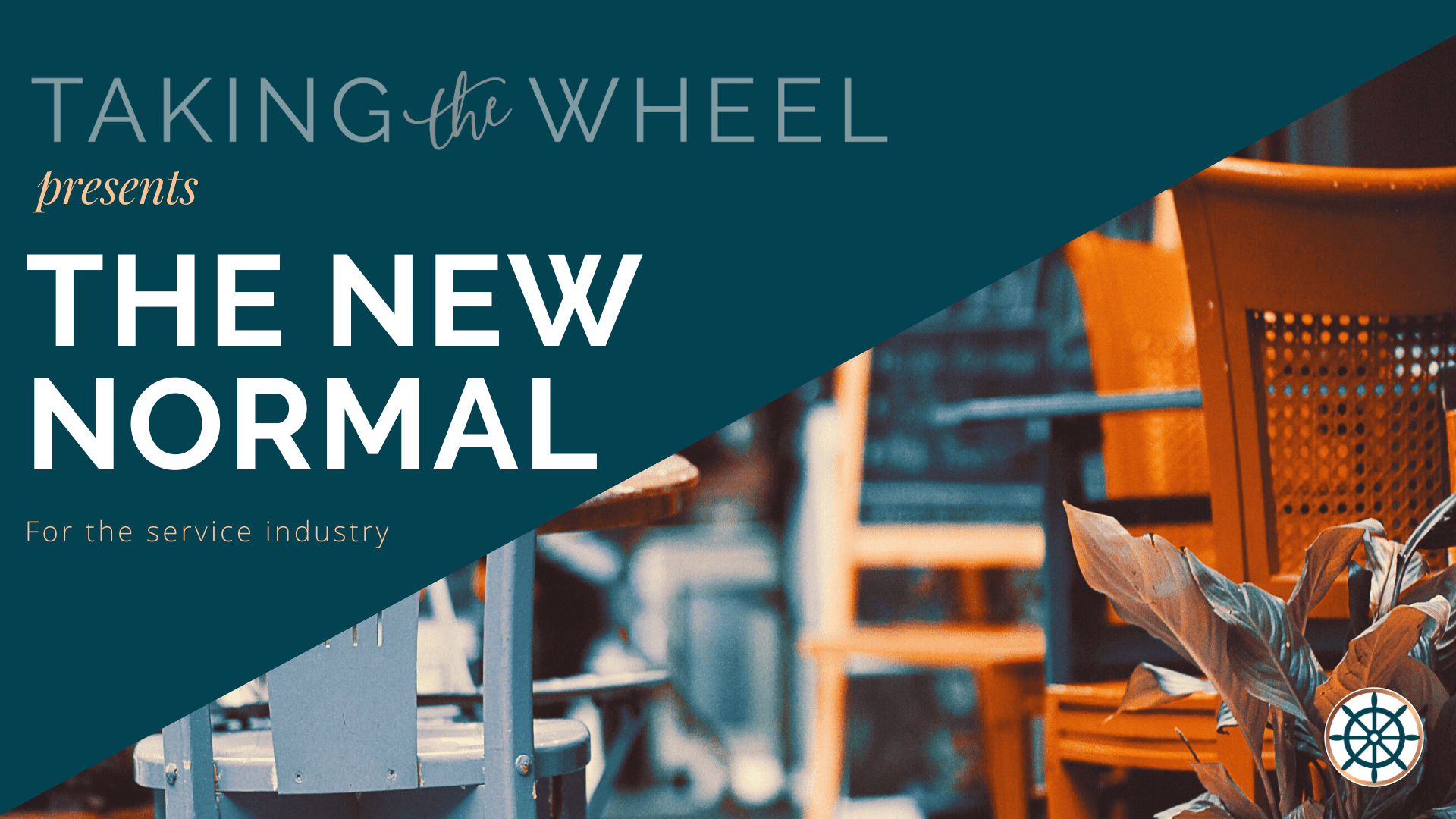 When states begin opening things back up, it is going to be a different process for each area. Where you live will be different than the state that opens up before you. Yes, we will be able to get insider information on how they did things, but now is really the time that we need to begin to prepare for these openings. This means having a mindset that things will not be going back to normal.
Depending on what your state lifts or if new mandates that are put in place, your business will need to adapt to these new ways of operating.
One of the top things I'm hearing from all my clients is a question: what can we be doing right now to prepare for this new normal? We went ahead and put together the top 4 things that Taking the Wheel Consulting believes you need to be doing right now to bounce back stronger than ever when these mandates are lifted. Let's discuss what the new normal means and how your business needs to adapt. In this four part series, we will discuss:
How to reassure your guests with your safety protocols
How to adapt to online
New services to offer
Hiring the right team to help you adapt
Part 1: How to reassure your guests with your safety protocols
We are diving into part one of four. Part one is about reassuring your patrons that their safety is your number 1 priority. People are scared, as they should be. You as business owners and entrepreneurs have to make sure you are reassuring those patrons. That's what will keep them coming back and wanting to visit those establishments once those mandates are lifted.
First things first, what can we be doing? We need to be wearing gloves. Are we wearing them appropriately? Are we wearing masks? Masks are probably what's to come, it's not that big of a deal though. If the health department had come and told us a year ago that we needed to wear masks we would just do it.
Safety:
Wear gloves
Wear masks
Are you taking the temperatures of your employees? Let everyone know you are taking things seriously
Contactless delivery and pick ups 
Sanitized pickups – sanitize the outside of everything
Having sealed bags and containers 
Contactless payments 
Being servsafe certified – get everyone on the same page, empower your team to be servsafe certified
In states that have already opened restaurants back up, there are a few safety measures that have been added to everyday operations:
Diners and employees required to have temperature check at the door with an infrared thermometer. Some restaurants are even writing employee's temperatures on a board for customers to see.
Some restaurants are requiring employees to wear face masks, utilizing booths instead of tables, and turning menus into plastic placemats.
Some states require that only 10 customers per 500 square feet can be inside a restaurant at a time.
Keeping a log of every customer's first and last name and contact phone number and kept for 30 days in case needed to retracing.
If you want to read more on COVID-19 Precautions and & Reassurance, download my guide here.
Part 2: How to adapt your business online
As food and beverage industry owners and managers its so important to be prepared. Your restaurant, bar, or catering company should be thinking of how to adapt for the future.
The future now is:
Everyone is cooped up and have got quite crafty on how they are ordering. Your community has gotten comfortable with online ordering. Post about specials you are doing and make sure that link to online ordering is right there for them to click.
Online ordering and delivery does not always mean that you have to partner with the DoorDash, UberEats, and Postmates. You can also create a system that works with your own employees.
Convenience is key! I know I'm someone who is a pen and paper type of girl but I'm gonna tell you right now that we have to get with the times and use online ordering.
Make sure that your to-go and delivery menus have items that travel and heat-up well. Soggy menu items or things that can't be reheated will create a bad customer experience.
Have instructions for reheating food. If someone picks up from you but isn't going to be eating for another hour, be sure they can enjoy the meal hot still.
Having options of value and for the whole family will be important. Dinners for 4 with an appetizer, salad, entree, and dessert will create an easy meal choice for a large demo. This can also be a meal for two that can be enjoyed twice.
Upsell your additional offerings. Do you have beverages, desserts, appetizers that you can offer with your meals? Create an add on experience with online ordering so that people are more apt to adding it to their cart when checking out.
To save money, ask your guests if they need utensils and condiments instead of including automatically. This will help eliminate food waste.
Do you have a way to say thank you and how to order again for your customers? Include a coupon or a simple note with their to-go bag so that they remember to order from you again. A note from the owner is always an impressive way to communicate with customers as well.
Part 3: New services that your restaurant, bar, or catering company can offer
Now we're going to dive into the community and get crafty on how to get food to the doorsteps. A lot of you are offering family meals or catering. That is exactly what you need to be doing. We don't know what the future is going to look like as far as mandates and what is appropriate.
We don't know how many people are going to be allowed in our establishments when mandates are lifted. What we do know is this: that we can still deliver food to peoples doorsteps. So as many opportunities that you have as a restaurant owner, manager, entrepreneur, to be a part of your community's meals, you need to be taking advantage of that. What do we mean by this? I mean catering. Mother's Day is right around the corner. Could you cater their entire Mother's Day? What else can you offer for their special day?
I think a lot of us thought that this was all just going to blow over and everything would go back to normal, but I'm here to say that I really don't think that is going to happen. We don't know how long this is going to be and each state is different. So in the meantime what can you be doing to be a part of every single meal?
subscription services
hosting virtual happy hour
create recipe book with the offering of picking up ingredients from you
virtual cooking demos
Really be thinking about the bigger picture. Instead of what you think is to come, take advantage of what you could be doing right now. This is only going to increase your bottom line, and reputation. People are going to remember you by this and they are going to be excited to experience dining in with you.
Part 4: Hiring the right team to help you adapt
How can we feel normal about this new normal? We have to hire the right people to help us navigate this new way.
Right now before mandates are lifted and before we know what is going on, we have an opportunity to hire those experts that can make your visions a reality. They are going to be able to pivot and move and handle anything that comes their way. The truth is when experts used to be limited and it was hard to hire in the food and beverage industry we struggled with that. Hiring to capacity was not an option sometimes, let alone hiring experts correct? Right now those experts are available and they want to get back to work.
What does it mean to hire an expert? How is this helpful?
Versatility – having those experts be able to do multiple different jobs for you.
Susantiblity – saving money in the long run by not needing as many people
Expansion – ultimately expanding your business because of the experts capabilities
True success lies in the success of your team, so that is why it is important. To hire experts. It all starts with having a team of experts behind you.