Top 10 Tips to Re-Open Your Restaurant, Bar, or Catering Company during COVID-19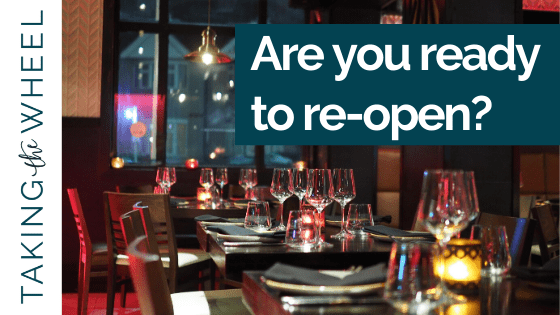 Have you thought about how you are going to launch your restaurant or bar when mandates are lifted? Now is not the time to give up, more hard work is just ahead. The Taking the Wheel Consulting team is here for you during this time. Check out our top 10 tips you will need to have a successful re-opening!
Connecting with your community!
During COVID-19 the landscape for the food and beverage industry drastically changed overnight. Your community and target audience has changed and you have to now rethink how you will adjust to who your guests are and what they need.
Meet your guests where they are. Are they needing more than just take-out and delivery food and beverage from you? Are they now needing market goods, fresh produce, cleaning supplies, toiletries? Can you be the middleman (or woman) for them?
With job loss and uncertainty, are you at a price point that customers are looking for? Assume most of your community has lost their jobs, or at least one person in a dual income home has.
Do you have any services that you can provide? Reach out to your community and see what they need and how you can help them. Are there certain menu items or items that they wish you were providing? Do they want delivery outside of third party apps? Frozen meals that they can easily heat up when needed. What about alcoholic beverages or cooking classes?
What's for Dinner?
Have you adapted your menu to include new items to offer to serve your new target market? Will you be launching without some old items because they were not cost efficient?
Think about looking at your menu design. You want to scale down with a limited amount of items, but you still want to ensure appealing and economically friendly options. Items on your menu should easily be executable while allowing for adjustments along the way. Chicken, pasta, pizza, and salads are generally inexpensive items that everyone loves. Add your own flair to make your offerings unique.
You don't want to miss the opportunity for any demos, have you thought about your health conscious customers? A lot of people have been eating poorly during the pandemic and are looking for healthier options.
When creating your new menu, food and labor cost should be at the forefront. How inexpensive and easy is your menu without sacrificing the quality? Keep in mind that you could have a small team to start so making your menu easy but delicious is going to be key here.
With many states recently allowing the delivery and to-go of alcoholic beverages, do you have a new section on your menu to offer this to customers? This is an easy upsell. Remember, if things change, it should be an offering that can easily be removed.
When you have your menu, it's time to negotiate with your vendors. Never accept the first price that you are given! Ask them what they have available and how they can meet your price point.
When creating your new menu to open with, how will you be presenting it. Presentation is going to be key. People want to take pictures of their meals and post them so the more interesting and enticing the better.
Will you need new containers or systems in the kitchen for your new menu? Some people may still be cautious so having a solid to-go and delivery system will be key. Order and plan ahead.
Fun for the whole family! Could you have a fun salad that is tossed and served in a tall disposable cup with a lid so they can walk and eat. With chicken skewers on top? Or a walking pizza. Finding a unique way to present your offerings is a great way to stand out from the crowd.
Get the word out!
Now that you are crystal clear on your market and menu, advertising and marketing is going to be key to get the word out that you are still an option for people.
Use your social media to create countdown posts to talk about when you are opening again, communicate new offerings, showcase new products that are visually appealing.
Your website is the number one destination for your customers. Make sure that all information is up to date and easily accessible. Making a customer search for the basic information about what you are offering and how they can get it will make them click out and go to the next place.
If people are searching online for options, they will most likely land on an online directory. Make sure that you have claimed all of your listings on Google My Business, Yelp, OpenTable, etc. and are adding the same updated information that you are putting on your website and social media.
Since there will be a transition of hours, methods of getting products from your business, etc. communicate these different dates and hours with your customers ahead of time so that they know there is a change coming.
Send your new information to local blogs, news stations, radio stations. They will be creating lists with restaurant information and you need to be a part of it!
Safety First
One of the most important plans that you will need to have updated and your staff trained on is your Safety and Sanitation plan. People will be worried more than ever about returning to restaurants to dine-in. Once you have a solid plan for your restaurant, you need a plan on how you will reassure your guests. This will need to be communicated everywhere that you are communicating new hours and offerings.
First, begin with creating SOP's (standard operating procedures) based on the regulated safety and sanitation standards. You will want to be clear on how to implement, how managers should talk about each procedure and of course the training on the program.
Begin making temperature checks on staff and guests a normal procedure. It will be extremely important that both from employees and the guests standpoint, anyone that may be unhealthy is not allowed into the building.
A standard for masks should be thought about. Not only should employees be wearing masks and gloves, but will your patrons need to be wearing them? If it is mandatory, will you have an option for them to purchase from you if they do not bring their own. A great marketing tool would be a mask with your logo on it. Any mandatory procedure will need to be clearly communicated to guests in all places that you post your information.
Handwashing stations should be available for both employees and guests as well. Social distancing procedures, cleaning procedures should all be publicly posted to ensure employees and guests.
For guests who may not be ready to dine inside your restaurant just yet should have grab and go or fast cause options.
I think we should just consider the fact that people may want to eat out of disposables. Less washing of dishes, less chance of cross contamination. Be ahead of the game with purchasing cool new disposables. Individual pieces of salt and pepper, condiments, and other items that normally would be on a table will no longer be a norm.
"Let's get ready to Rumble"
Now that you have your team, how will you train them right away? Having your training manuals up-to-date with your new policies and procedures will be key.
Part of your training should focus on customer service. With new menus and policies both employees and customers will be seeing new things, so if mistakes happen, there has to be well tailored customer service solutions to make things right.
Your establishment needs to be ready for anything. Create scripts so your teams are ready to have the hard conversations with guests about safety. Also take your customer service up 100%. Employees should be asking your guests things such as: how are you, what is your name, why did you pick us, thank you for choosing us, what else can I do for you today?
To help with your sales, create upsell items that your employees are trained on. "Did you know we also have this or that?" Keep them coming back!
Cross-training will be heavily weighted as you navigate your way through this crisis. You must expect that anyone at any moment could contract the virus. Do you have a plan in place if your only pastry chef gets sick? Think of these things for cross-training and if you have them in place:
Do you have everything written down that this person does so that there is no confusion for the next person that is taking their role?
Do you have all of your recipes written down along with how to order the ingredients and execution notes?
Having a very clear understanding and game plan of how you are going to execute your products and services is going to be key. You need to make sure everyone is on the same page. Having written policies visible to your teams will help in training and accountability. Even if it sounds silly, have a policy for it. Your doors are about to re-open to the public, don't screw it up!! Make sure your teams are very clear about their job duties with written job descriptions. And lastly, always being up to date on new guidelines from the CDC and local health department so you are sure you are following the rules correctly.
Hiring Rockstars
After re-working your menu, creating new procedures, and understanding what your restaurant, bar, or catering companies offerings will now be, your next question is who do you need to execute all of it?
Consider hosting a job fair. Instead of going through resumes after resumes of people who may not even be interested in applying for the job. The ones who are interested will come. And you can conduct interviews on the spot like the good old days.
When hiring, consider hiring experts with a wide range of experience so that you can cut down your labor until you really get back into your sales range that makes you profitable. Your chef may need to also be the prep cook and dishwasher too for a while. Hire people that can do it all: sales, execution, bartend, social media.
Just because you are hiring less bodies does not mean that the ones you do hire shouldn't be compensated appropriately. Pay them appropriately for what they do. You don't want to burn out rockstar employees from the beginning. Make sure that you have a system that allows them to have a position that helps the both of you grow.
If you did not provide benefits before, this is something to seriously think about. Why should someone choose to work for you over another business that provides Health insurance, 401k, PTO/PST, maternity leave, etc.? There will be so many jobs available, communicating why you are thinking of your employees will be a huge selling point. If you pay to invest in them, they will invest in you and your business.
It is important that you find people that are prepared to pivot as the market does. Being able to update menus and pricing, given how much or how little business there is.
Create an environment your team is proud of being in. Proud to be a part of and excited
about opportunities to come. Your team does not have to be huge in order to be great and successful.
"One of these things is not like the other"
How do you stand out from the rest of your competition? You have to get your customers back in the door to have them become a regular again.
Is there something that you can offer as a dine-in only or tableside to get those customers back?
Could you create an experience that is a higher priced item, but is a special reason for people to get out of the house and enjoy going out again? Limit it to 20 people (or however many people are allowed in a space at once), choose 5 different food stations or courses. Create wine pairings or craft beer pairings. Have the chef come out and do an action station or course to create that "Instagram" moment for your guests.
Some other ideas could be karaoke night, trivia, cooking lessons in the dining room, wine tasting with your alcohol distributor.
Unique offerings during this re-open will be key. What is something that you can offer that no one else can? If you can't think of anything, do you have a special or deal that people might get excited about that can get them in the door and have them order more? People may still be jobless so having economically friendly offerings will be important.
Once you have your customers purchasing again, keep them with you. Create a referral or reward program for them to come back.
"Dollar Dollar Bills"
We learned through this crisis that having multiple income streams is important in case one is not working. Creating that one-stop-shop was something that successful businesses in the food industry provided as they adapted through this crisis. People are still going to be hesitant even when mandates are lifted, so creating new ways to make them your customer will still be important.
Have you added any of the following services to your offerings?
Catering
Meal subscriptions
frozen meals
partnership with local businesses who sell items you are not (bakery that gives $5 every time they buy a cupcake towards your restaurant, in turn you promote them on your menu or have their items for sale in grab and go)
market goods if you still can
Apparel
Gift items
alcohol sales/delivery
Recipe books
Any opportunity to make money is an opportunity you should be taking advantage of.
Practice Makes Perfect
Once you have all of your new menus, procedures, and staff, it is time to practice before your doors open. People are going to be scared, upset, anxious. You may only have one chance to get it right for your customers.
You must practice everything:
Products
Services
Talking to customers about new policies and procedures
Safety and sanitation
How to handle uneasy customers
Customer service in general
Invite your family and closest friends in for a practice run. Require them to be brutally honest, give feedback on menu and service, talk about their concerns and worries.
Don't be afraid to adapt!
The number one thing to create a mindset of is that things are going to change, you are going to have to adapt to be successful, and we will all get through this. You and your team must be ready to shift at any point. Be proud, lead by example, and don't let anything stop you from success!
You will be able to figure everything out. You must understand that the new normal is still new and could change again, but the old normal will never be coming back.
It's going to be hard, it's going to be tough, but it will be worth it in the end. You made it this far, it's up to you to keep it going for you and your team.
At the end of the day it's only new for a little bit until it becomes normal. You can be the leader in the new normal and you should be. Don't wait for someone else to do it first because then you have competition. Be the new trend setter.
If after reading these tips, you are overwhelmed, reach out to Taking the Wheel Consulting for a free consultation. We are ready to help you maneuver through this crisis and re-open your business successfully!